Welcome to our site, we are Steve and Sue Wallace, and have both enjoyed archery for over 35 years, with most of those dedicated to Traditional Archery.
Steve handcrafts timber arrows using European Spruce shafts, you chose fletch cut and colour, plus nock colour, with optional cresting and crown dip as selected. The flemish strings are custom made to order using Fastflight, with many colours to choose from. Our classic quality Bow Stringers for both Longbows and Recurves with leather end pouches joined by thick braided cord. Also includes end packer if required. Stringkeepers, are Leather hood with a long tail that slips over your top limb tip to stop your string slipping down the bow when it is unstrung, for Longbow and Recurve (free with a bowbag), plus a larger size for Horsebows.
You will find many archers with arrows and other goods made by Wallace Woods at a lot of the tournaments.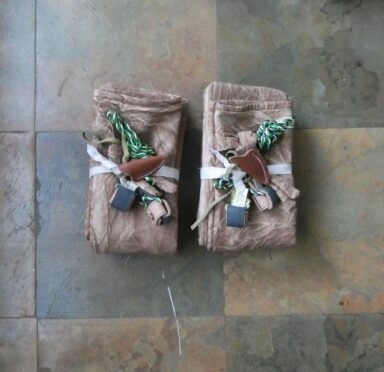 I hand dye calico and turn it into bow bags for each customers requirements, with limited stock on hand, and stretch cotton into limb socks (from time to time) plus felt for archers hats.

View pictures of our recent work on the Products page. You will find us at most Traditional Only archery tournaments, just look for the coloured bowbags, and we are more than happy to help you, so come and say g'day.
So whether you're after a set of quality hand made arrows or a bow bag contact us by email; sue@wallacetradwoods.com and I'll get back to you to discuss your individual customized requirements. You can also like our page, Wallace Woods & Susies Stitchins on FB, plus keep up to date with the Trad Shoot happening around Australia on FB page Travellin' Round the Trads.
We look forward to hearing from you.
Cheers sue 😊
---
A couple of responses;
Hi Sue, I can't thank you enough for all your help in guiding me through the process of ordering my new arrows. Needing a set of timber arrows to compete in my state titles in northern Queensland was really daunting, as I only use carbons, but you made the process so easy. Your patience was appreciated, and thank you for answering all my questions. The end product was more than I was expecting and shot better than my carbons. Thank you so much for your guidance, and your help. Mark B from up north 😉
---
Wow, I can't believe the service, so easy to deal with, and product knowledge was mind boggling and they make great arrows too. Keep up the great work and I'll be back for my next set. Thanks. Gordon from Nowra.
---
Got the arrows in time for my first traditional shoot. It was great. Thank you and sorry for the many questions. Mr S. 😉